Scottish reshuffle: Salmond appoints Sturgeon referendum supremo
Deputy first minister to oversee economic policy and direct preparations for 2014 referendum on independence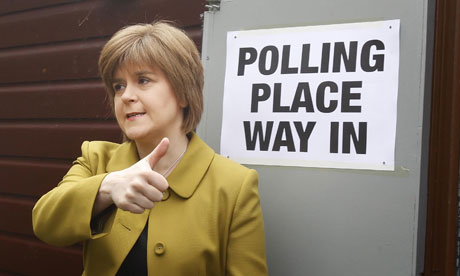 Alex Salmond
has again attempted to bolster the independence campaign by asking his highly-regarded deputy first minister
Nicola Sturgeon
to direct the Scottish government's referendum strategy.
Charged too with overseeing economic policy, Sturgeon will spearhead the Scottish government's preparations for the 2014 referendum, starting on Thursday with a meeting with the UK government
Scotland
minister David Mundell.
Sturgeon's appointment came after the first minister held a snap reshuffle.
Forced on Salmond partly by the decision of his senior constitutional affairs minister Bruce Crawford to retire, Sturgeon's new posting is the most significant in a series of recent personnel changes within his government and the Scottish National party as the political pace around the referendum sharply accelerated.
Sturgeon, the longest serving Scottish health secretary since devolution and widely tipped as the SNP's most likely successor to Salmond, has successfully piloted through two of the SNP government's most contentious measures, with legislation on alcohol minimum pricing and cabinet approval for a gay marriage bill.
A firm proponent of a single "yes or no" referendum question on independence, she has been critical of Salmond's behind-the-scenes efforts to find a coalition of civil and business leaders to fight for a second question on increased devolution. That option is now thought to be dead: Salmond is understood to be committed to a single question vote in 2014.
Salmond's most influential and experienced special adviser, Kevin Pringle, moved last month from his government post to become the SNP's head of strategic communications; on Sunday, the official Yes Scotland independence campaign unveiled its executive team.
Salmond said on Wednesday that a date had been pencilled in within the next few weeks for his meeting with David Cameron to agree the terms of the 2014 referendum and the legislation needed to enact it; Downing Street said dates were under discussion, but none had yet been confirmed. The first minister said he believed a deal would be struck when he meets the prime minister.
Crawford had been leading the talks with Mundell on the precise detail of the referendum, which is now widely tipped to see votes for 16- and 17-year-olds; supervision by the Electoral Commission; legal approval by the Westminster government; and a single "yes or no" question on independence.
Salmond said both he and Cameron were keen for that deal to be struck. "My understanding [is] he's anxious to have the meeting and I'm anxious to have it," he said. "I think progress has been made. I have never regarded these things as presenting insuperable obstacles and nor have they."
The reshuffle means that seeing the same sex marriage bill into law despite vigorous opposition from the Catholic church and defending the minimum pricing act against court action by Scotch Whisky Association now fall to new health secretary Alex Neil, the former infrastructure minister who was previously one of Salmond's fiercest internal critics and a former party leadership contender.
Aware of the risk that Sturgeon's move would provoke allegations that the
NHS
was being downgraded by his government, Salmond said Neil was one of his most formidable ministers. "Alex Neil is a very, very serious political figure and a figure of great substance," the first minister said.
No other senior cabinet posts have changed, but three other junior ministers have been sacked and replaced by backbench MSPs.
Brian Adam is replaced as minister for parliamentary business by Joe Fitzpatrick, MSP for Dundee City West. Stewart Stevenson is replaced as minister for environment and climate change by Paul Wheelhouse, MSP for South Scotland, and one of the party's brightest media performers, Humza Yousaf, the MSP for Glasgow, becomes the new minister for external affairs and international development. Margaret Burgess, MSP for Cunninghame South, is a new minister for housing and welfare.
Having formally taken on the role of cabinet secretary for infrastructure, investment and cities, with "lead responsibility for government strategy and the constitution", Sturgeon told Holyrood on Wednesday that she was "extremely excited" by her new post.
"I look forward to making that positive, that honest, that upbeat case over the next two years and I look forward to winning the independence referendum in 2014," she said.