SNP prepared to defy Cameron on a second independence referendum
Party would attempt to push ahead with vote without prime minister's consent if he refused any future demand to hold one, senior SNP source indicates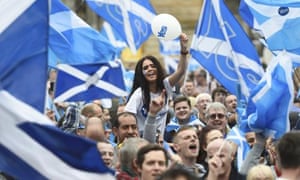 The Scottish National party would be prepared to push ahead with a second independence referendum without David Cameron's permission if the prime minister refuses any future demand to hold one, a senior party source in Westminster has indicated.
The party would be prepared to try to bypass the prime minister and hold an indicative ballot of the Scottish people if it believes it has a political mandate for a referendum but Westminster refuses to allow one.
When talking about whether Cameron would be able to refuse another demand for an independence vote, the senior SNP source claimed that the prime minister would not be able to, adding that "precedent is all".
Before the general election, SNP leader
Nicola Sturgeon
repeatedly stressed that another referendum is off the agenda unless there is a "material" change in circumstances. However, there is no clear definition of what this means and the SNP has several options that might pave the way for it to argue it has a mandate for another.
Possible reasons include if Cameron resists the SNP's demands for greater devolution of powers, if the UK votes to leave the European Union or withdraw from the European convention on human rights, or if the SNP wins a decisive victory at the Holyrood elections in 2016 having expressed a desire for another referendum in its manifesto.