Many people in England and Wales would love the chance to vote for Nicola Sturgeon.
She has multiplied the chances that the Scots will wipe the board and deprive Scottish Labour of sending MP`s to Westminster.
She was well supported by Leanne Wood, he smaller parties should do well at the General Election and Plaid Cymru may well increase its representation.
"The Guardian"
General election 2015
SNP supporters mob Nicola Sturgeon in
Edinburgh after leaders' debate
SNP leader says feedback has been positive after televised debate but cautions against getting carried away with 'post-match analysis'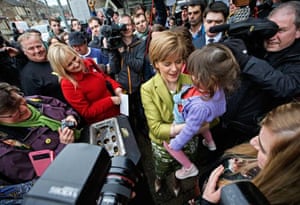 Jubilant supporters have mobbed
Nicola Sturgeon
on a slow, triumphal walk through west Edinburgh, her standing having been transformed overnight by an acclaimed appearance in the leaders' debate.
A crowd of SNP voters – some hardened activists, others new arrivals swept along in the swelling tide behind Sturgeon's party, were ecstatic in their reception of the first minister. If the event was intended as a simple photocall, the upbeat atmosphere turned it into something closer to a coronation.
"Good job last night, Nicola," shouted one man as supporters mobbed the first minister, their hands holding mobile phones aloft for that closeup moment; a woman near by yelled out: "You were wonderful."
Poised, coiffed and grinning , Sturgeon was in demand for a string of selfies. She was told by one mother posing for a picture with her sons: "Well done last night, you done women proud. Thank you. Thank you so much!"
There were toddlers to meet and local chemists to charm. And as motorists sounded their car horns in an impromptu chorus, Sturgeon affected modesty at the critical applause and poll-topping ratings her performance achieved. "The feedback, as far as I have seen, and it is up for other people to judge, has been positive," she said.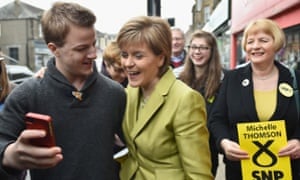 She said she was delighted to have the chance to seize the initiative on a UK-wide platform. It confirmed her party is poised to win an historic landslide, perhaps claiming upwards of 40 of Scotland's 59 Westminster seats.
"If we all work as hard as we know we can, then the momentum is unstoppable. And on 7 May, we will make sure that Scotland's voice is ringing through the corridors of Westminster more loudly than it has ever done before," she proclaimed, to roars of approval.
This was the boss talking, the 44-year-old first minister first began delivering SNP leaflets as a 16-year-old. For years she was the disciplined grafter who failed four times to win a constituency seat in Westminster and Holyrood before finally triumphing in 2007 (she was elected to Holyrood in 1999 and 2003 on the regional list). The woman who nearly stood for the leadership in 2004, but instead chose to serve as deputy leader for a decade to Alex Salmond.
Now, after appearing alongside her allies Natalie Bennett, the English Greens leader and her friend Leanne Wood, leader of the Welsh nationalist Plaid Cymru, Sturgeon seemed even to going beyond
Scotland
, as she said the debate on ITV amounted to an advert for the "progressive alternative" they hope to offer all UK voters.
This would challenge the entire establishment at Westminster, not just on behalf of Scots and Welsh radicals and nationalists, but progressives in England too. "I'm very keen to find that common ground; and if we're in a position to do so, find that common ground and deliver change," Sturgeon said.
As her old boss Alex Salmond, out campaigning in Fife, enthused that his former protege was "wiping the floor with the Westminster old boys' network", Sturgeon offered words of caution: "We've got to see how people vote; after all, there's a danger that all of us will get carried away with the post-match analysis."
Judging by the sheer energy and spirit of the scores of activists gathered on St John's Road in the prosperous suburb of Costorphine, this is yet another seat the Liberal Democrats are unlikely to hold. And that simple fact is evidence of how far the SNP's post-referendum tide has reached.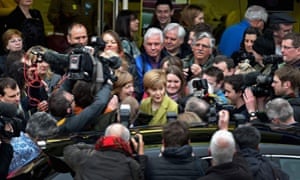 Edinburgh West was, until this election, a three-way marginal where the SNP would come a distant fourth. The Lib Dems' Mike Crockart took it with a 3,803-vote majority over Labour, the Tories a close third. Five years ago, the SNP was more than 10,000 votes adrift behind Crockart.
But the referendum campaign has changed that. While Edinburgh West, like most of Scotland's capital, voted heavily against independence last September, by 42,946 against to 22,615 in favour, the SNP has effectively kept every one of those yes votes and built on them. The no vote is split in three. To have any hope of holding this seat, the Lib Dems need Tory and Labour no voters to act tactically in their favour to hold off the SNP.
But now, to add to the Lib Dems' discomfort, the SNP's campaign headquarters is in the old Yes Scotland shop immediately next door to Crockart's high street office.
And protected behind a privacy screen, four Lib Dem workers stoically continued working away on their campaign, as scores of raucous SNP supporters, their saltires, SNP placards and balloons above their heads, greeted Sturgeon's arrival.
Crockart was away at a meeting. A tall young man in his subdued office seemed to shrug off the contrast. Were they flustered by the huge crowds outside? "Not really. We had it during the referendum. It's fine. It's democracy," he said.
As across Scotland, the 2010 results in Edinburgh West are an historical irrelevance. The referendum changed the political map. Today the SNP could well win; their candidate is Michelle Thomson, a businesswoman who became an active figurehead of the small but active pro-independence Business for Scotland campaign.
But Sturgeon had a warning message to her supporters, their numbers swollen by people off work for the Easter bank holiday. She had seen during the referendum campaign thousands of yes activists celebrating before polling day, assuming victory and then tasting defeat. It irritated her deeply then. The SNP is being far more canny now.
So in her parting message to her supporters, she fought to get her voice heard over the car horns and chatter of the crowd: "Michelle is going to be a fantastic MP but she's only going to be your MP if you get out there and make it happen."
Before climbing into her official car, a black Scottish government hybrid Lexus, she came close to chiding the jubilant crowd, drumming home a work ethic central to her success. "We've got a great opportunity but we're only going to grasp that opportunity if we get out there and work harder than we've ever worked before," she said.
"My message to you is let's take nothing for granted – not a single vote. Let's get out there over the next few weeks and make sure we win this election for Scotland."