SNP warns Scotland could still vote for independence
Party's Westminster leader says new referendum is on the cards if David Cameron fails to deliver promises on greater devolution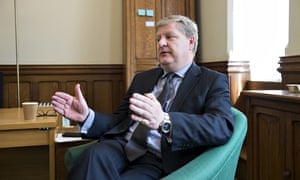 He added: "Do I believe that in the future there will be further moves towards Scottish self-government? Yes, I do. Do I believe that there will in time be a growing desire in Scotland for independence? Yes, I do. Do I believe that in time there will be a referendum when the public wants it on independence and that there will be a Yes result? Yes, I do."
Robertson insists his MPs are working constructively in parliament, but maintains the other parties are finding it impossible to accept the new force in their midst. "Westminster is having to come to terms with a very changed position in the chamber, where the Liberal Democrats are hard to see or hear because there are so few of them and this massive cohort of SNP are shocking the system by turning up to debates and taking part and having views that parts of the political class at Westminster have never heard.
"Images are regularly tweeted in Scotland of the small number of Tories on one side [of the House of Commons]and a similarly small number of Labour MPs – and scores of SNP MPs filling up the benches of the third party. Our party has arrived here with a job to do and, boy, are they going to do it."
The SNP task was clear. "We were elected on a very well understood platform, standing up for Scottish interests to deliver the new powers that were promised to voters who voted both Yes and No in the referendum last year. We were elected on a strong mandate to oppose austerity, to resist the renewal of Trident, to represent our constituents. Unlike other parties, we have an extremely tangible north star."
In the meantime the party is portraying the government and Westminster parties as serial betrayers. Robertson say that a cross-party report by the Scottish parliament, as well as analysis by the House of Commons Library, supports its view that the Scotland bill falls short of the recommendations made by the Smith commission, a claim the government strongly rejects.
Cameron says the bill does implement the commission's recommendations and argues that the SNP is now backing off from its previous demands for full fiscal autonomy because it has realised it would be a bad deal for Scotland.
On devolution, Robertson added: "A promise was made and already we can see with the government's legislation in the Scotland bill that has been presented does not match the Smith commission that was agreed and does not match the commitment made by the PM that he would look seriously on the proposals from the Scottish government on further devolution, which is what the people of Scotland voted on at the general election."
The SNP says the bill fails to guarantee greater powers over welfare payments, and goes nowhere near delivering on Cameron's pledge for a redistribution of power that would be as "close to federalism as possible".
"Of course one needs to make sure a public building can function for its purpose, but spending £5bn, £8bn, £12bn on a renovation project I think is going to find very little favour with people who are about to be told their income is about to be cut very severely. There is hardly a bigger example of wrong priorities.
"The more that the UK parties, having been humiliated in the general election, do not respect the voters who voted for the SNP in the general election – but not for independence – there will be a growing view in Scotland that political institutions are not in a position to understand or care enough to realise that change needs to happen."